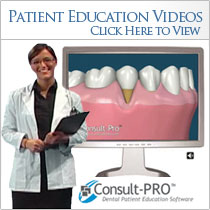 Periodontics is the branch of dentistry that deals with the care and treatment of the tissues surrounding and supporting your teeth. A periodontist is a dentist that specializes in the prevention and treatment of periodontal disease. Periodontists also place dental implants and can cosmetically enhance your smile through periodontal procedures.
As a periodontist, Dr. Glover has received years of additional training in periodontics beyond their general dental degree. He has highly specialized knowledge and skill in the diagnosis and treatment of periodontal disease, options for cosmetic periodontal procedures and the placement of dental implants.
The following will help you to better understand the procedures and conditions that Glover is expert in dealing with.
Patient Education
Periodontal Disease
Individual & Cosmetic Procedures