Over 40 Years of Experience in

Periodontal & Implant Dentistry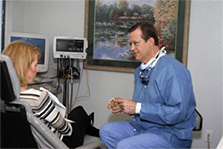 Experience the highest level of periodontal and implant dentistry available, with an unsurpassed commitment to your comfort through the proven, advanced technology and procedures in periodontics and implantology that Dr. Glover has embraced; along with contributions from his own extensive research and development on cutting edge techniques in periodontal cosmetics and bone regeneration.
Personal Care & Attention
Receive the personal care and attention you deserve from Dr. Glover's team of dedicated professionals who are with you every step of the way. Be assured that Dr. Glover and his staff will collaborate with your general dentist and/or prosthodontist in a very team-centered approach to always provide him or her with prompt and accurate communication to maintain the level of quality and excellence you deserve.
A Team Approach
Work together with Dr. Glover and his team towards healthy gums and maintaining your periodontal disease or to enjoy the benefits of gum grafting and implants for improved functionality or that dream smile you've always wanted.
Whatever your desires are, Dr. Glover and his team are devoted to help you achieve them.