Patient Center

Advanced Technology & Patient Comforts

We strive to stay on the leading edge of periodontal techniques and equipment. In order to do this, we take a great deal of continuing education. We also utilize advanced equipment in our office.
Advanced Periodontal Cosmetics

There are now many more periodontal procedures to enhance the appearance of your teeth and gums. Teeth that look short due to excessive gum tissue can be lengthened to give a more pleasing look.  Teeth that have exposed roots and appear too long can be corrected with gum grafts. Dr. Glover has contributed to textbooks and lectures on this topic in order to share his knowledge with other dentists and periodontists.
His research  assures that you will receive the most current care possible making your treatment outcome very predictable and optimally successful. 
Read More about Cosmetic Periodontics >>
Immediate Teeth with Advanced Dental Implants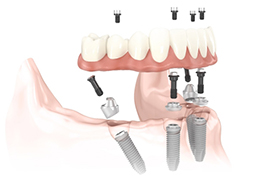 Recent advances in dental implant technology and bone regeneration allow Dr. Glover to place dental implants which can provide support for teeth that can be restored the same day as the implants are placed. 

Single tooth implants can often be placed the same day the tooth is removed and restored that day as well.  
Read More about Teeth-In-A-Day >>
Cone Beam CAT Scans
A key to dental implant safety and success is advanced radiography. Cone beam digital CAT scanning allows us to take 3-Dimensional, high resolution CAT scans of your facial anatomy. We can then view these images from different angles, take precise measurements, and easily share 3-D data with other doctors. A CAT scan ensures that every possible precaution has been made to reduce the risk of involvement of the nerves in the lower jaw, and the sinuses and nose in the upper jaw.
Cone beam imaging is ideal for patient comfort. It offers an "open-environment" design that reduces anxiety, and images can be taken in as little as 20 seconds, limiting discomfort and exposure to radiation.
Read More about Advanced Imaging for Implant Success >>
SimPlant® - Computer-Guided Implant Placement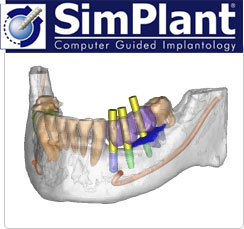 The SimPlant® is a software system that automatically analyzes CAT scan information and provides exact placement perimeters for optimum results. Once the CAT scan is taken the digital information is formatted to be used with the sophisticated SimPlant® software. This allows Dr. Glover to perform virtual implant surgery in a 3-D environment before your surgery is ever scheduled. Correct implant placement maximizes safety, longevity and the cosmetic end result. Case planning between Dr. Glover and your restorative dentist can then be done.
Additionally, the SimPlant® analysis can be immediately sent to our dental lab who will use it to manufacture a surgical guide. Implant placement becomes completely computer-guided reducing any possible surgical error.
Read More about Advanced Imaging for Implant Success >>
Magnification Telescopes
Dental telescopes magnify your teeth and gums in minute detail during periodontal procedures. Dr. Glover uses magnification in many procedures to operate with greater precision, using smaller instruments and sutures. Magnification is less invasive, causes less discomfort, and typically produces better results in less time.
Digital Photography
Dr. Glover uses state of the art digital photography to document  many conditions to establish a baseline of comparison.  This is excellent for those patients who need certain gum conditions carefully monitored.