Patient Center

PerioSciences®
What Is PerioSciences®?
PerioSciences® is a Dallas-based company that combines rigorous research and testing with state of the art technology to develop several antioxidant oral healthcare products.  Every product is applied topically and comes in either rinse or toothpaste form.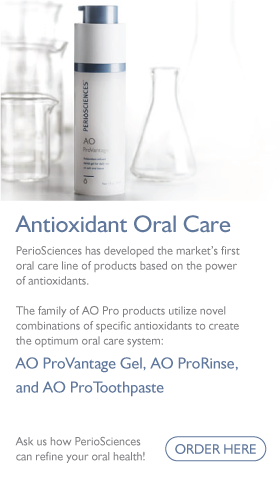 NATURAL: Promotes a healthy oral environment, fresh breath, and naturally moist oral tissues.  100% natural.
WHITE CARE: Brightens teeth from surface stains. Ideal after whitening treatments, keeping teeth brighter and soothing tissues aggravated by bleaching chemicals while restoring a normal pH balance in the oral cavity.
SENSITIVE: Addresses tooth sensitivity to heat and cold with a potassium nitrate toothpaste as well as general oral sensitivity with a minty, yet mild rinse. SENSITIVE products will freshen breath and soothe the mouth.
HYDRATING: Formulated with proven moisturizers and a special selection of targeted ingredients that work together to promote moist feeling oral tissues, healthy teeth and fresh breath while creating a pH environment that is hostile to damage causing bacteria.
Learn more about the benefits of PerioSciences® products.
Where Can I Buy PerioSciences® Products?
Because dental and medical professionals are in the best position to interpret the vast research published on antioxidants, PerioSciences® sells its high-end line of oral care products through dental offices and medi-spas. The line will not be available in stores or pharmacies. During office visits, patients can sign up online for the easy and convenient shipment, including auto-refills.
Click here or on the image to the right to order these products right now!
Patient Center
Dallas Dental Implants
Mark E. Glover, DDS, MSD, PC
Board Certified Periodontist
(214) 691-5593
8226 Douglas Ave, #601
Dallas, TX 75225
view map
Mark Glover, DDS
is rated
4.9

out of

5

based on

151

reviews from around the Web.
Dr. Glover and his office staff are absolutely incredibly wonderful. I have never seen such a wonderful staff.

He is gentle and brilliant. I know his treatment will be the best. I am a retired dental hygienist and patient.

I am very impressed with the professionalism demonstrated by the staff and Dr. Glover.

Dr. Glover is the consummate professional, taking great care listening to answers to his questions rather than just typing in a computer.

The best decision I could have made. Dr. Glover is thorough, and explains fully the procedure. His staff could not be better.

I have the utmost respect for Dr. Glover, I have absolutely nothing negative to say regarding any of the work/procedures I required; his skill level, expertise and professionalism is without question.

His staff is always friendly and Dr. Glover takes as much time needed explaining what needs to be done.

I always receive excellent care and service - starting with the friendly and accommodating front desk personnel, to the hygienist, and to Dr. Glover and his dental assistants.

Dr. Mark E. Glover has always been my periodontist for over 15 years and has provided me with excellent service as well as making me feel comfortable and valued as a patient.

I've been going to Dr. Mark Glover for over 17 years and have always been valued as a patient and have always had gotten great service.

I have a very health heart but you treat my teeth like a good cardiologist would treat a patient's heart.

Little or no waiting time, efficient and pleasant atmosphere. All the confidence in the world in Dr Glover and his staff. Thank you

She informs and educates the patient. She explained my medical condition clearly. Dr. Glover saved my teeth! Albert

The office manager, Valerie is very personable and good with patients. Dr. Glover always takes time with patients.

The Best in North Texas! Been going to him for about two decades. Wouldn't change for nothing! Cora Beth - West Texas!

My experience with Dr. Glover's office and associates has always been positive, supportive, and beneficial.

Maybe this missed notice was an aberration, but do appreciate notice which I expect also helps ensure patients come on schedule easing scheduling snafus for you.

They are so kind and supportive. I live over 60 miles away but it's well worth the drive and I don't plan to ever stop going to this dentist.

Professional, compassionate, gives options when indicated, "talk time", follow-up consistent, brilliant!

Dr. Glover was very thorough and open to all of my questions and concerns. He explained my problems and the game plan to fix them.

Dr. Glover is the most thorough and an excellent oral surgeon. His staff is welcoming and helpful.

Treatment plan presentations are easy to understand. His surgical results are excellent.

An outstanding team headed by Dr. Glover and his expertise , dental hygienist Lyndsay, as well as most friendly and courteous staff.

Dr. Glover and his staff are the gold standard for excellence and professionalism.

I trust Dr. Glover's expertise. He has the latest technology to diagnose periodontal health. He is gentle and kind.

Since 1991 Dr. Glover & his excellent staff have been taking care of my dental needs & they are the very best !!!

He and his staff always go out of their way to make my visit enjoyable. They do great things!

Dr. Glover is widely recognized for his expertise and knowledge/skill with regards to dental implants.

Mark E. Glover, DDS, MSD, PC
Board Certified Periodontist
Phone:
(214) 691-5593
Fax: (214) 691-5595
8226 Douglas Ave, #601
Dallas, TX 75225
Browse Our Site
Our Office